Two-DVD set will include newly-recorded audio commentary by the five main cast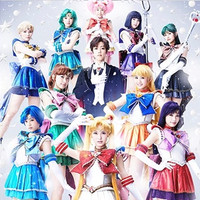 To promote the upcoming DVD release on March 15, the official YouTube channel of the Sailor Moon franchise has streamed a three-minute digest video of the latest "Pretty Guardian Sailor Moon -Amour Eternal-" musical play that has performed in Japan since last October. The fourth show featuring the new cast members covers the fourth "Dead Moon" arc of Naoko Takeuchi's original manga story. It opened at AiiA 2.5 Theater Tokyo on October 15, 2016, then played at Canal City Theater in Fukuoka (October 29-30) and Sankei Hall Breeze in Osaka (November 4-6). In addition, it is scheduled to be performed at Eniwa Civic Hall in Hokkaido on March 11 and 12.
The two-DVD set also includes newly-recorded audio commentary by the cast of the five sailor guardians: Hotaru Nomoto (Sailor Moon/Usagi Tsukino), Yume Takeuchi (Sailor Mercury/Ami Mizuno), Karen Kobayashi (Sailor Mars/Rei Hino), Kaede (Sailor Jupiter/Makoto Kino), Rimo Hasegawa (Sailor Venus/Minako Aino). The bonus disc contains the five cast's first performance as the characters at the
"Usagi & Chibiusa Birthday Special Night" event held on June 30, 2016.
DVD digest
DVD jacket
---
30-second CM
Message from the five main cast
Musical Main Cast:
Sailor Moon/Usagi Tsukino: Hotaru Nomoto
Sailor Mercury/Ami Mizuno: Yume Takeuchi
Sailor Mars/Rei Hino: Karen Kobayashi
Sailor Jupiter/Makoto Kino: Kaede
Sailor Venus/Minako Aino: Rimo Hasegawa
Sailor Uranus/Haruka Tenoh: Shu Shiotsuki
Sailor Neptune/Michiru Kaioh: Sayaka Fujioka
Sailor Pluto/Setsuna Meioh: Mieko Ishi
Sailor Saturn/Hotaru Tomoe: Karin Takahashi
Sailor Chibi Moon/Chibiusa: Airi Kanda
Helios: Hikaru Hirayama
Mamoru Chiba/Tuxedo Mask: Yuga Yamato
Source: Sailor Moon 20th anniversary project official website
© Naoko Takeuchi
© Naoko Takeuchi, PNP/Kodansha, Nelke Planning, Dwango