All these Pokemon will help you protect your eyes while working those long hours on the computer!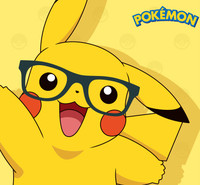 If you spend a lot of time in front of the computer, you might consider using special glasses meant toor eliminating much of the blue light that computer monitors emit. Much like Gunnar glasses, they are all meant for people who work on PCs or spend a lot of time on them in general.
Zoff has unveiled a new series of Clear Pack Pokemon Models of its glasses line, with plenty of Pokemon designs for fans to gobble up. You get one of five frames with a matching lens cleaning cloth and a carrying case with Pikachu on the front. You can choose from Eevee, Pikachu, Charizard, Mewtwo, and Gengar and the glasses run about $34. You can preorder the glasses here via Zoff.
Which one is your favorite?
[via RocketNews24]
-------
Fueled by horror, rainbow-sugar-pixel-rushes, and video games, Brittany is a freelancer who thrives on surrealism and ultraviolence. Follow her on Twitter @MolotovCupcake and check out her portfolio for more.