News Revealed at Next Level Fan Appreciation event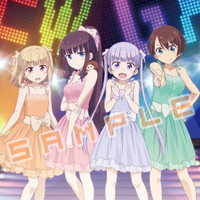 On February 12, New Game! cast including Yūki Takada (Aoba Suzukaze), Yōko Hikasa (Kō Yagami), Ai Kayano (Rin Toyama), Megumi Yamaguchi (Hifumi Takimoto), Megumi Toda (Hajime Shinoda), Ayumi Takeo (Yun Iijima), Madoka Asahina (Nene Sakura), Chitose Morinaga (Umiko Ahagon) and Eri Kitamura (Shizuku Hazuki) reunited for Next Level Fan Appreciation event at Toyosu PIT, tickets for which were offered with the anime's first two Blu-rays. News from the gathering was that a second season of the anime adaptation of Shōtarō Tokunō's game-development comedy manga is in development.
Volume 5 of the 2013 manga was released in July.
*:.。.:*゜「NEW GAME!」第2期制作決定!゜*:.。.:*
青葉たちにまた会えます!!!!
これからも応援よろしくおねがいします!#ニューゲーム pic.twitter.com/VlJjySOeCf

— TVアニメ『NEW GAME!』公式 (@nganime) February 12, 2017
Posted by the manga author
おかげさまで! pic.twitter.com/eIHQXMzE6P

— 得能正太郎 (@tokutaro) February 12, 2017
From manga magazine
TVアニメ「NEW GAME!」第2期制作決定です!皆様の応援のおかげです!引き続き応援よろしくお願いいたします!!(C.T) pic.twitter.com/KQi318nwGz

— まんがタイムきらら編集部 (@mangatimekirara) February 12, 2017
本日はNEWGAME!のイベントでした!応援してくださった皆様のお陰で2期の制作が決定致しました!本当に本当にありがとうございます!キャストとして、いちファンとして幸せな気持ちでいっぱいです。
これからもどうぞ宜しくお願い致します!皆大好き!
2期もがんばるぞい!#ニューゲーム pic.twitter.com/o4rmngk87X

— 戸田めぐみ (@todamegumi) February 12, 2017
会場の準備も着々と進んでおります!
入り口には青葉たちがお出迎えしてくれます♪ #ニューゲーム pic.twitter.com/Wo7Mq2ivcX

— TVアニメ『NEW GAME!』公式 (@nganime) February 12, 2017
今日はNEW GAME!のイベントに足を運んで頂き、本当にありがとうございました!
あの景色の中に自分がいる。みんながいる。胸がいっぱいでうまく言葉に出来なくて
ありがとうって何度も伝えたくて
大好きが溢れてました

2期もどうぞ宜しくお願いします!
がんばるぞい!!!! pic.twitter.com/xSibkNA9IJ

— 朝日奈丸佳 (@maruasahina) February 12, 2017
すっごい素敵な仲間で素敵な時間を過ごすことが出来ました!お疲れ様でした!! pic.twitter.com/xcsT3H9Mv1

— 喜多村英梨 \m/ 直往邁進༄ (@KITAxERI) February 12, 2017
夜の部も盛り上がるぞいっ pic.twitter.com/DVqjA406aI

— 喜多村英梨 \m/ 直往邁進༄ (@KITAxERI) February 12, 2017
「NEW GAME!」ファン感謝イベント〜Next Level〜!夜の部は開場中です。
夜の部も盛り上がっていきますよ〜!#ニューゲーム pic.twitter.com/P49HdPqyQb

— TVアニメ『NEW GAME!』公式 (@nganime) February 12, 2017
昼の部終わりました!!
もずくも祝福!!
また逢えるね!! pic.twitter.com/8RVcO5eOKH

— 喜多村英梨 \m/ 直往邁進༄ (@KITAxERI) February 12, 2017
「NEW GAME!」ファン感謝イベント〜Next Level〜!昼の部は開場中です。楽しいイベントになりますように!一緒に盛り上がって下さいね♪ #ニューゲーム pic.twitter.com/FEH28zvruH

— TVアニメ『NEW GAME!』公式 (@nganime) February 12, 2017
------
Scott Green is editor and reporter for anime and manga at geek entertainment site Ain't It Cool News. Follow him on Twitter at @aicnanime. tw