Pen pineapple Pikotaro is going to LA!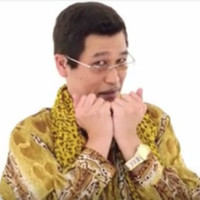 "PPAP" singer and fan-favorite Pikotaro is on his way to the Grammys in Los Angeles. It's unclear whether or not the short and catchy songwriter is going to perform his popular "PPAP" tune, but he's going to make an appearance and that's a surprise in itself.
Pikotaro will join the company of Lady Gaga, Beyonce, Bruno Mars and other popular American acts. Maybe a collaboration is brewing? We can only hope!
The 59th Grammy Awards are airing February 12 (this evening!). We'll have to see what happens!
[via Gematsu]
-------
Fueled by horror, rainbow-sugar-pixel-rushes, and video games, Brittany is a freelancer who thrives on surrealism and ultraviolence. Follow her on Twitter @MolotovCupcake and check out her portfolio for more.