Film startet in den kommenden Monaten in 23 Ländern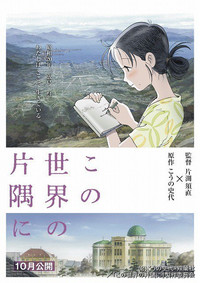 Der Anime-Film In This Corner of the World war in Japan zunächst kein Kassenschlager. Durch überwältigend positives Feedback ist der Film mittlerweile jedoch ein voller kommerzieller Erfolg. Kritiker loben das Werk in höchsten Tönen, und Kinema Junpo nannte ihn den besten japanischen Film 2016 – zuletzt hatte 1988 mit Mein Nachbar Totoro ein Anime-Film diese Ehre. Ferner erhielt Sunao Katabuchi die Auszeichnung für den besten Regisseur.

Wie nun bekannt wurde, soll der Film in den kommenden Monaten in 23 Ländern gezeigt werden. Im Januar und Februar konnten Besucher des Akiba Pass Festivals ihn sich bereits ansehen, im Juli soll es hierzulande "offiziell" starten.
Universum Anime hat den Film im deutschsprachigen Raum lizenziert. Wann eine Veröffentlichung auf DVD und Blu-ray erfolgen soll, ist noch unbekannt. Da der Film aktuell noch erfolgreich in den japanischen Kinos läuft und kürzlich die Grenze von zwei Milliarden Yen überschritten hat, ist davon auszugehen, dass es wie im Fall von your name. noch einige Monate bis zum Disc-Release dauern wird.

Der Erfolg des Films hat auch dazu geführt, dass eine erweiterte Fassung mit 30 Minuten mehr Material folgen soll, das es aus finanziellen Gründen nicht in die Ursprungsfassung geschafft hat.
via Nikkan Sports