The DVD set has five, Blu-ray-set has three discs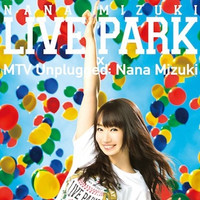 The official website for 37-year-old anime voice actress/singer Nana Mizuki has revealed the jacket images, song list, and a 15-second CM for her upcoming live DVD/Blu-ray set "NANA MIZUKI LIVE PARK x MTV Unplugged: Nana Mizuki" to be released on March 8. The five-disc DVD set and three-disc Blu-ray set includes her Hanshin Koshien Stadium concert held on September 22, 2016, and "MTV Unplugged" session filmed at Maihama Amphi Theater on October 23. The former was the first solo concert by a female artist at the famous baseball stadium and the latter was the first performance in the internationally popular acoustic music program by a Japanese voice actress artist.
CM
Blu-ray (three discs/8,800 yen)
DVD (five discs/8,800 yen)
Song List:
"NANA MIZUKI LIVE PARK" (Hanshin Koshien Staudium/September 22, 2016)
OP MOVIE
1. "Aoi Iro"
2. "POWER GATE
3. "It's Only Brave"
MC1
4. "Naked Soldier"
5. "SCARLET KNIGHT"
6. "Antiphona"
7. "Cherry Boys SHOWCASE - Moero!! Cherybo Nine"
8. "POP MASTER"
9. "76th Star"
MC2
10. "Summer Sweet"
11. "Koiuta."
12. "team YO-DA SHOWCASE - Bakuhatsu LOVE LOVE"
13. "The NEW STAR"
14. "Faith"
MC3
15. "TRANSMIGRATION"
16. "Netsujyo no Maria"
SHORT MOVIE "my dear PARK"
17. "STARTING NOW!"
18. "Lazy Syndrome"
19. "7COLORS"
MC4
20. "STAND UP!"
MC5
21. "MASSIVE WONDERS"
22. "ETERNAL BLAZE"
23. "Appassionato"
MC6
23. 2BRAVE PHOENIX"
<ENCORE>
24. "Fun Fun★People"
MC7 ~Hanshin Tigers' Song (Rokkou Oroshi)
25. "You have a dream"
26. "Miracle☆Flight"
MC8
27. "Rensou Hanabi"
<W ENCORE>
MC9
28. "JET PARK"
ENDING
ENDROLL
"MTV Unplugged: Nana Mizuki" (Maihama Amphi Theater/October 23, 2016)
Introduction
1. "innocent starter"
2. "Silent Bible"
MC1
3. "Mugen"
4. "Junketsu Paradox"
5. "PHANTOM MINDS"
MC2
6. "DISCOTHEQUE"
7. "Ego Ideal"
8. "Justice to Believe"
MC3
9. "Shinai"
<ENCORE>
MC4
10. "Orgel to Piano to -holy style-"
MC5
11. "Hoshizora to Tsuki to Hanbi no shita"
ENDING
---
Source: Nana Mizuki official website