Ending theme performer also announced for upcoming TV anime based on prequel manga to "Astro Boy"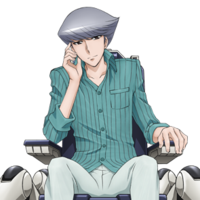 Five more voice actors have joined the cast of Atom the Beginning, an upcoming science fiction TV anime based on the manga by Tetsuro Kasahara (with story assistance by Makoto Tezuka and Masami Yuki) which focuses on the events leading up to the creation of the title character of Osamu Tezuka's Astro Boy. The new cast members include:
Takahiro Sakurai as Moriya Tsutsumi, the head research student at Nerima University's school of robotics engineering. Moriya works in Lab 01, and he looks down on Tenma and Ochanomizu as beneath him. Because his legs are disabled, Moriya moves about in a robotic chair of his own design.
Mikako Komatsu as Motoko Tsutsumi, Moriya's younger sister. Like her older brother, Motoko is a graduate student enrolled in Nerima University's school of robotics engineering. Motoko lives alone, but she's a bit of a princess and she often returns to her parents house when she gets bored. Motoko takes an interest in Hiroshi Ochanomizu.
Ayane Sakura as Ran Ochanomizu, Hiroshi's younger sister. Ran belongs to her high school's robot club and she is good at reclaiming scrap material and turning it into robot parts. She is known for her unruly hair and her distinctive beret cap. As the series progresses, Ran takes an interest in A106.
Kengo Kawanishi as Shunsaku Ban, the son of Kensaku Ban. Shunsaku has an unrivaled love of robots, so he befriends Tenma and Ochanomizu. Kensaku dreams of being a detective when he grows up.
Nobuo Tobita as Kensaku Ban, the manager of "Maruhige", a convenience store that will take on any request, from moving services to detective services. Tenma and Ochanomizu often take on part-time jobs at "Maruhige". Kensaku is known for being stubborn but warm-hearted.
Yoshino Nanjō as Maria, a female robot who presides over the robot-parade at the theme park "Mecha City". Also known as MDM ("Mechanical Diva Maria").
Additionally, Yoshino Nanjō will also perform the ending theme for Atom the Beginning, which is entitled "Hikari no Hajimari" ("The Beginning of the Light").
The original Atom the Beginning manga is serialized in Shogakukan's Monthly Hero's seinen manga magazine. The Atom the Beginning TV anime is directed by Katsuyuki Motohiro and Tatsuo Satō and features animation by OLM, Inc., Production I.G, and Signal.MD. Atom the Beginning will debut on NHK during the Spring season of 2017.
Sources:
Official Atom the Beginning TV anime home page
Paul Chapman is the host of The Greatest Movie EVER! Podcast and GME! Anime Fun Time.