TV anime's first three episodes will be screened in the event on March 11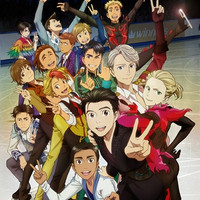 Tokyo Anime Award Festival announced today that the TV anime Yuri!!! On ICE won this year's "Anime Fan Award" with 41,439 votes from the fans. From November 21 to December 25, the official website of the festival accepted online votes to choose the best 100 anime of 2016 from 550 titles that were aired/screened between October 18, 2015 and October 15, 2016. After the result was revealed in the end of December 2016, the fans were again asked to vote to choose the best title for the "Anime Fan Award" from the 100 candidates from January 16. The number of the total votes for the award was 257,348, which was 20 percent more than last year.
To celebrate the award, the first three episodes of the TV anime will be screened at the Cinema Sunshine Ikebukuro theater's screen 1 at 11:00-12-40 on March 11, the second day of the four-day festival. 1,500 yen advance tickets are now available on DMM.E. till March 8.
Tokyo Anime Award Festival 2017 "Anime Fan Award" Top 20
1. "Yuri!!! On ICE" - 41,439 votes
© Hasetsu Town's people/Yuri!!! On ICE PROJECT
2. "Joker Game" - 37,552
© KOJI YANAGI/KADOKAWA/JOKER GAME ANIMATION PROJRCT
3. "High Speed! Free! Starting Days" - 16,094
©2015 Kouji Ouji., Kyoto Animation/High Speed Production Committee
4. "Mobile Suit Gundam: Iron-Blooded Orphans" - 14,997
© SOTSU, SUNRISE, MBS
5. "Mob Psycho 100" - 14,623
© O, S/M 2016
6. "DREAM FESTIVAL!" 11,078
7. "TO BE HERO" - 9,398
8. "Detective Conan The Darkest Nightmare" - 9,345
9. "Cute High Earth Defense Club LOVE! LOVE!" - 8,797
10. "Gintama" - 8,030
11. "K RETURN OF KINGS" - 7,311
12. "Yu-Gi-Oh! The Dark Side of Dimensions" - 6,627
13. "Yowamushi Pedal Spare Bike" - 6,576
14. "Fafner in the Azure: Dead Aggressor EXODUS" - 5,295
15. "World Trigger" - 3,592
16. "Ponkotsu Quest - Maou to Haken no Mamonotachi-" 2,994
17. "Kuroko's Basketball: Winter Cup Compilation ~Shadow and Light~" - 2,810
18. "One-Punch Man" - 2,730
19. "Utawarerumono: The False Faces" - 2,456
20. "Seraph of the End: Battle in Nagoya" - 2,276
---
Source: Tokyo Anime Award Festival