New Crunchyroll App now available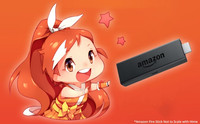 Hey Everyone,

We've got some exciting news today for all you Amazon FireTV users: now you can watch your favorite Crunchyroll shows on FireTV as the Crunchyroll App is now available!



The Crunchyroll App on FireTV is FREE to download, and provides both our Premium and free ad-supported experiences.

Use the text search to search for your favorite shows, and enjoy all of the same benefits you get with your Premium account on FireTV, such as Queue access, viewing history, and more!

Now go forth and enjoy your anime on FireTV!