TV series' general director Shin Onuma helms the all-new film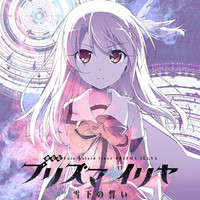 The official website for the Fate/kaleid liner Prisma Illya anime series today updated with a key visual for the upcoming feature film Sekka no Chikai (The Oath under the Snow) that is scheduled to be released sometime this year. While not much details are available now, 40-year-old Shin Onuma, who directed the first TV series and served as the general director for the second to fourth seasons, is directing the film for SILVER LINK.
【ビジュアル公開】「劇場版プリズマ☆イリヤ 雪下の誓い」のキービジュアルが公開!また、3/25から開催されるアニメジャパン2017:KADOKAWAブース特設ステージにてトークショウが行われます! https://t.co/HzPtxAq8AV #prisma_illya pic.twitter.com/DvBRpNz8ey

— プリズマ☆イリヤ公式アカウント (@prisma_illya) February 24, 2017
Announcement video for the film
---
Kadokawa also announced the stage schedule for its titles at the upcoming Anime Japan 2017 event
on March 25 and 26. Two voice cast members from the anime, Mai Kadowaki (Illyasviel von Einzbern)
and Noriaki Sugiyama (Shirou Emiya) are confirmed to join a talk show in the stage event for the
film at 16:20-50 on March 25. More details on the film are expected to be revealed at the event.
March 25:
10:45-11:15
(PV, voice cast will be revealed)
©2017 Akihito Tsukushi, Take Shobo/Made in Abyss Production Committee
12:20-12:50
"Akashic Records of Bastard Magic Instructor"
(Souma Saito, Akane Fujita, Yume Miyamato will join a talk show)
©2017 Taro Hitsuji, Kurone Mishima/KADOKAWA CORPORATION/Bastard Production Committee
15:00-15:30
(Kaito Ishikawa, Aoi Yuuki will join)
© Yutaka Kouno, Yu Shiina/KADOKAWA/Anime "Sagrada Reset" Production Committee
16:20-16:50
"Fate/kaleid liner Prisma Illya: Sekka no Chikai"
(Mai Kadowaki, Noriaki Sugiyama will join)
©2017 Hiroshi Hiroyama, TYPE-MOON/KADOKAWA/"Movie Prisma Illya" Production Committee
March 26:
12:20-12:50
(Yuuki Takada, Megumi Yamaguchi, Megumi Toda, Ayumi Takeo will join. A part of the upcoming OVA will be previewed)
© Shotaro Tokunou, Houbunsha/NEW GAME! Production Committee
15:00-15:30
"Zero kara Hajimeru Mahou no Sho"
(Yumiri Hanamori, Tsuyoshi Koyama, Yo Taichi will join)
©2016 Kakeru Kobashiri/KADOKAWA Ascii Media Works/Zero no Majutsushidan
16:20-16:50
(Voice cast will be announced)
©2017 Rin Fujiki, THORES Shibamoto/KADOKAWA/Vatican Miracle Examiner" Production Committee
---
Source: "Fate/kaleid liner Prisma Illya" official website, Twitter, Kadokawa press release