Takeshi Furusawa (Kyo, Koi o Hajimemasu)-directed film will open on April 15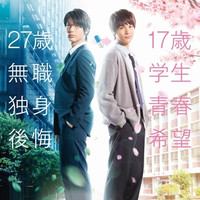 The official website for the upcoming live-action film adaptation of So Yayoi's fantasy web manga ReLIFE today posted a 100-second special clip for its ED song "Sakura" performed by 19-year-old singer-songwriter Sonoko Inoue. In the last half, the clip also features rap performance by 18-year-old Taishi Nakagawa who is cast as the protagonist Arata Kaizaki at age of both 17 and 27 in the film.
"Sakura" was originally released as four-member Japanese rock band Ketsumeishi's 14th single song in February 2005. Inoue also provides her newly-written original song "Message" as the theme song for the film. Her 4th single including both "Message" and "Sakura" will be released in Japan on April 12, then Shochiku will distribute the film from April 15.
Special clip featuring the ED song "Sakura"
90-second trailer
Sonoko Inoue
Taishi Nakagawa
---
The manga featuring 27-year-old protagonist Arata Kaizaki who experiences his second high school life
by the ReLife Project has been published on NHN comico's "comico" website since October 2013 and its
English edition has been also available on Crunchyroll.
43 year-old Takeshi Furusawa, well known for his live-action film adaptation works based on popular shoujo
manga series, such as Kyo, Koi o Hajimemasu (Kanan Minami/2012) and Clover (Toriko Chiya/2014), is
attached to direct on a screenplay by Kumiko Asou (Wakakozake). 18-year-old Taishi Nakagawa (Kiyoshi in
Prison School) portrays the protagonist Arata Kaizaki. 18-year-old Yuuna Taira (Akane Sawa in Aozora Yell)
is cast as the main heroine Chizuru Hishiro.
Main poster visual
Flyer visual
Manga tankobon 1st and 6th volume covers
Source: "ReLIFE" live-action film official website
©YayoiSo/comico