Enjoy these chocolate slices on bread or your favorite treats.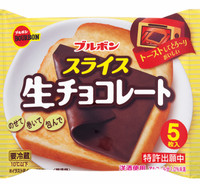 Japanese company Bourbon previously rolled out sliced chocolate, a handy confection that you could wrap around your favorite foods, eat on a sandwich, or utilize in methods much like regular cheese. It was ingenious, of course, and now there's a new flavor: white chocolate.
The white chocolate version is called Sliced Nama Chocolate White and will be a dream come true for white chocolate addicts. In addition, the regular nama chocolate will come back on March 7 with extra cocoa and a more "sophisticated" taste than the original.
Both flavors will come in five-slice packages for about 250 yen apiece. If you're lucky enough to get a package, make sure you let us know how it tastes!
[via Rocket News 24]
-------
Fueled by horror, rainbow-sugar-pixel-rushes, and video games, Brittany is a freelancer who thrives on surrealism and ultraviolence. Follow her on Twitter @MolotovCupcake and check out her portfolio for more.