Upcoming high school romance anime fills out its ranks.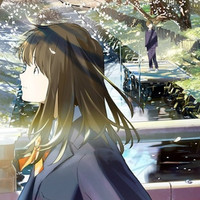 Assassination Classroom director Seiji Kishi's upcoming Tsuki ga Kirei (As the Moon, So Beautiful) has just dropped more than a dozen new voice actor announcements. Filling out the ranks are seventeen actors from all eras of anime. Here they are:
Roman Yamashina (left): A third-year and long-time friend of Kotaro's, whose looks make him very popular with the girls in school. Voiced by Eishin Fudemura (Seren, Show by Rock!)
Daichi Ogasawara (right): A third-year and long-time friend of both Kotaro and Roman. He has little in common with his friends by way of hobbies, and is so cool and laid-back that occasionally his words come out as more hurtful than intended. Voiced by Makoto Kaneko.
Aoi Takizawa (second from left): A third year, Akane and Chinatsu's friend, an athletic student and the "straight man" of the friend group. Voiced by Haruka Shiraishi (Sora Matsuzaki, From up on Poppy Hill).
Ryuunosuke Azumi (center): Kotaro's father. Born and raised in Kawagoe, he's always lived and worked locally. He's the silent type, and enjoys reading and listening to vintage records. Voiced by Kazuo Oka (Zaggy, Dragon Slayer)
Junko Azumi (right): Kotaro's mother. She and Ryuunosuke met through work at Kawagoe City Hall. She's been a stay-at-home mother since Kotaro was born. Voiced by Kikuko Inoue (Belldandy, Ah! My Goddess)
Saori Mizuno (second from left): Akane's mother, a housewife. Because she married a bit young, she has a certain extra degree of friendship wiht her two daughters. Voiced by Chiwa Saito (Natsumi Hinata, Keroro Gunsou)
Hiroshi Mizuno (second from right): Akane's father, who works for a food company. His work has him and his family relocating on a regular basis, hence their presence in Kawagoe. Voiced by Mitsuo Iwata (Chanpa, Dragon Ball Super)
Ayane Mizuno (right): Akane's older sister, currently attending a private school in Tokyo. Frank, candid, and a good counselor for Akane. She's dating a construction worker. Voiced by Ryoko Maekawa (Sayaka Sasayama, Yu-Gi-Oh! Arc-V)
Tsubasa Kaneko (second from left): A third-year in the school's baseball club. Refers to himself as "ore-sama" and is generally not bothered with the idea of being considerate. Voiced by Kentaro Kumagai (Aston Altland, Gundam: Iron-Blooded Orphans)
Shou Nagahara (second from right): A third-year with a flashy personality. He's not very good at sports, but somehow manages to stay on the soccer team. Voiced by Yuuya Hirose (Daichi Norita, Cheer Boys!!)
Yasuhito Inaba (right): A third-year on the soccer team. Well-educated, good at sports, and possessed of common sense; but because of his plain face and personality, he doesn't stand out much. Voiced by Mark Ishii (Chrono Shindo, Cardfight! Vanguard G)
Miu Imazu (second from left): A third year and "ghost member" (non-participating member) of the school's brass band. Very interested in makeup and fashion, and in search of a boyfriend. Voiced by Haruka Chisuga (Miyoko Narushima, Haruchika)
Setsuko Satou (center): A third year and ghost member of the brass band. A well-off and generally nice girl who tends to have trouble expressing herself. Voiced by Misono Suzuki.
Aira Miyamoto (second from right): A third year and ghost member of the brass band. Considered the most attractive girl in her class, and gives off an aura of leadership. Voiced by Kaori Ishihara (Seira Otoshiro, Aikatsu!)
Sakura Tanaka (right): A third year, withdrawn and an otaku. She reads light novels and wants to go to Comiket, but she's also curious about boys. Voiced by Honoka Inoue (Firacolribia Drio, Sukasuka; also the daughter of Kikuko Inoue)
Ryouko Sonoda: A music teacher who, after two years of teaching, is suddenly in charge of a homeroom. Male students crush on her, female students envy her. Voiced by Nao Touyama (Karen Kujo, KINMOZA)
Daisuke Tachibana: Kotaro's older brother, currently attending college. He lives locally and is Kotaro's number one confidant. Voiced by Mutsuki Iwanaka (Akira, JoJo's Bizarre Adventure: Diamond Is Unbreakable)
Tsuki ga Kirei is set to premiere this April.
Source: Anime Recorder
-----
Kara Dennison is responsible for multiple webcomics, blogs and runs interviews for (Re)Generation Who and PotterVerse, and is half the creative team behind the OEL light novel series Owl's Flower. She blogs at karadennison.com and tweets @RubyCosmos.