RADWIMPS' "Your Name." album wins "Soundtrack Album of The Year"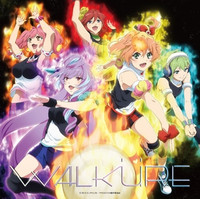 The Recording Industry Association of Japan (RIAJ) announced the winners of the 31st Japan Gold Disc Award today on February 27, which were based on sales number data of music CDs and DVD/Blu-rays compiled between January 1 and December 31, 2016.
"Walküre Attack!," the 12-song first album of the five-member girls idol unit Walküre from the Macross Delta TV anime franchise was chosen as "Animation Album of the Year." The album was released on July 6, 2016, and ranked 2nd in the Oricon weekly album sales ranking in its first week. It has sold over 127,000 units in Japan, and was already certificated as "Gold Disc" by RIAJ. Last year's winner was "Love Live! μ's Best Album Best Live! collection II," the second best album of μ's, the nine-member voice actress unit from the Love Live! franchise.
Meanwhile, the soundtrack album for Makoto Shinkai's mega hit anime film Kimi no Na wa./Your Name.,
composed/performed by four-member Japanese rock band RADWIMPS, receives the "Soundtrack Album
of The Year" prize. The 27-song album was released on August 24, 2016, and has become the top-selling
album in the band's 14-year career.
"Walküre Attack!" CD jacket illustration
Walküre artist photo
"Your Name." soundtrack album CD jacket
RADWIMPS artist photo
"Your Name." theme song "Zenzenzense" MV
Source: The Recording Industry Association of Japan