Takahiro Miki (Hot Road, Ao Haru Ride)-directed film will open on October 28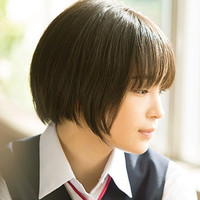 The official website for the upcoming live-action film adaptation of Kazune Kawahara's Sensei! love story manga today posted a 30-second web-only teaser for an October 28 release. The clip starts with 17-year-old protagonist girl Hibiki Shimada (Suzu Hirose) saying to her teacher Kosaku Ito (Touma Ikuta), "Sensei, may I fall in love with you?"
The story centers on a love relationship between a high school teacher Kosaku Ito who is brusque but always takes good care of his students and one of his students, Hibiki Shimada who gives her first love in her life to him.
『先生!』10月28日(土)公開も決定しました
公式サイトもリニューアル
ポスターや特報映像は3月11日から劇場で流れる予定です!(一部劇場を除く) 公式サイト https://t.co/i8Dsu0pIyK #先生! pic.twitter.com/iYA9CsFUfe

— 映画「先生!」公式 (@sensei_movie) March 1, 2017
---
This is the fourth time for the author to get her manga adapted for big screen, following High School Debut
(2011), Ore Monogatari!! (2015) and Aozora Yell (2016). Sensei! was her first serialization work that ran in
Shueisha's Bessatsu Margalet from 1996 to 2003, then compiled in 20 tankobon volumes. It has printed over
5.7 million copies in Japan and is now also available in 11-volume smaller bunko edition.
The live-action film is directed by Takahiro Miki, well known for his successful live-action film adaptations
based on popular shoujo manga titles, includings Yuki Obata's We Were There (2012), Taku Tsumugi's Hot
Road (2014), and Io Sakisaka's Ao Haru Ride (2014). Mari Okada, who has worked on many anime series,
such as Anohana: The Flower We Saw That Day (2011), Nagi no Asukara (2013), and the ongoing Mobile
Suit Gundam: Iron-Blooded Orphans, provides the screenplay.
Bunko edition 1st and 11th volume covers
via: Cinema Today