Visitors can play basketball with the life-sized characters without an actual ball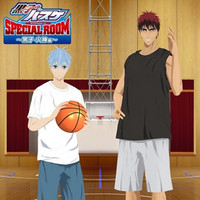 J-World Tokyo, a theme park dedicated to the world of "JUMP" located in Ikebukuro, Tokyo, will open a new 3D attraction "Kuroko's Basketball Special Room" inspired by Tadatoshi Fujimaki's popular sports manga series on March 12. Its first period to be held till May 31 will feature two of the Seirin High members, Tetsuya Kuroko and Taiga Kagami.
The room has two screens set at right angle, and wearing the 3D glasses, you can see the characters in front of you. As a student of Seirin High who is interested in playing basketball after watching the club's game at the Winter's Cup, you visit the gym and meet Kuroko and Kagami. Then Kagami invites you to play some before the practice begins. By moving your hands, you can catch the ball and pass it down to them, and even shoot a basket without an actual basketball in the five-minute session.
The J-World Tokyo Passport set including the ticket for the time-limited event is available at 3,300 yen
for adults and 3,100 yen for children from March 1 to May 30. The set also includes an original clear file
imitating an application form to the Seirin High basketball club.
Original clear file image
Source: Namco press release
(C) Tadatoshi Fujimaki/Shueisha, Kuroko's Basketball