سيُعرض في يوليو المقبل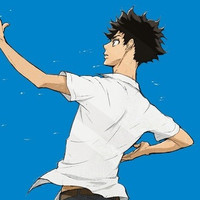 أعلن الموقع الرسمي لانمي Ballroom e Youkoso (بالإنجليزية Welcome to the Ballroom) التلفزيوني المقرر أن يُعرض في يوليو المقبل عن طاقم الأصوات المؤدية وهو:
شيمبا تسوتشيا بدور تاتارا فوجيتا
نوبوهيكو أوكاموتو بدور كيوهارو هيودو
آياني ساكُرا بدور شيزوكا هاناوكا
توشيوكي موريكاوا بدور كانامي سِنغوكو
طاقم العاملين يضم:

إخراج: يوشيمي إيتازو
كتابة: كِنيتشي سويميتسو
تصميم شخصيات الانمي: تاكاهيرو كيشيدا
موسيقى: يوكي هاياشي
ستديو: برودكشن آي جي
ملصق دعائي للانمي
---
الانمي مقتبس من مانجا من كتابة ورسم تومو تاكِويتشي ومتسلسلة في مجلة شونِن الشهرية منذ 2011 ولديها حتى الآن 8 مجلدات. لدى كودانشا كوميكس الأمريكية تراخيص نشرها بالإنجليزية.
تدور القصة حول طالب في الثانوية يُدعى تاتارا فوجيتا لا يجيد فعل أي شيء بالرغم من رغبته الشديدة في ذلك. في يوم من الأيام ينجذب إلى عالم الرقص البولروم بفضل راقص محترف.
عبر: Natalie
Takeuchi Tomo . Kodansha/ Ogasawara Dance Studio©