Cast gathered for rite of April on April 5th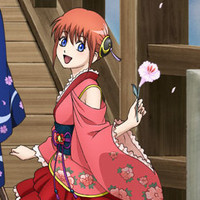 On March 5th, Tomokazu Sugita (Gintoki), Daisuke Sakaguchi (Shinpachi), Rie Kugimiya (Kagura,) Susumu Chiba (Kondo), Kazuya Nakai (Hijikata), Tetsuharu Ōta (Yamazaki), Mikako Takahashi (Sadaharu) and gathered at the Ryogoku Kokugikan sumo hall on Tokyo March 5 to celebrate the Gintama Hana-Matsuri rite of spring. With the anime, a new previewed hyped the big events occurring the series' anime.
In other Gintama happenings, this week's issue of Jump is revealing that, in Apri, CHiCO with HoneyWorks return for the opening (2015's Shinigami and Confession arcs, along with comedy episodes) featuring their "Pride Kakumei." XY is on ending "We Gotta Fight."
銀魂華祭り2017(仮)終演しました!
みなさん、ご来場ありがとうございました!!#gintama #銀魂華祭り pic.twitter.com/gBad3LGjWA

— 銀魂華祭り2017(仮) (@gintamaevent) March 5, 2017
華祭り昼回開演中!ということで、ここでご紹介!両国会場では実写映画で使用した衣装を展示中!明日ビジュアル解禁予定の真選組衣装も先行展示!衣装は写真撮影okです♪かっこいい#gintama pic.twitter.com/blOgHeIdd1

— 銀魂華祭り2017(仮) (@gintamaevent) March 5, 2017
銀魂華祭り2017(仮)本日開催!会場正面入口横ではキャラクターパネルがお出迎え♪写真撮影OKですので、ぜひご入場前にお立ち寄りください!
劇場ライブビューイングは今からでも間に合います!豪華出演陣の共演をお見逃しなく!https://t.co/Dkm3UVaDAN
#銀魂華祭 pic.twitter.com/ft8MyhDtyv

— 銀魂華祭り2017(仮) (@gintamaevent) March 5, 2017
とうとう明日は「銀魂華祭り2017(仮)」本番!両国国技館では着々と準備進行中です。皆様明日の準備はいかがですか?全国ライブビューイング劇場では当日券の販売も!(一部完売の劇場もございます)⇒https://t.co/BQLw3oOOvT #gintama #銀魂華祭 pic.twitter.com/D8VZwxtEXN

— 銀魂華祭り2017(仮) (@gintamaevent) March 4, 2017
【グッズ情報】今週末は華祭り!ということで、当日販売グッズ(一部)を紹介します♪まずはスカジャン!!女性が着るとこんな感じ♪刺繍がおしゃれです。#gintama #銀魂華祭り →https://t.co/Dkm3UVaDAN pic.twitter.com/kIybthXkTE

— 銀魂華祭り2017(仮) (@gintamaevent) March 3, 2017
-------
Scott Green is editor and reporter for anime and manga at geek entertainment site Ain't It Cool News. Follow him on Twitter at @aicnanime