The pages of the two stories will be sealed to prevent browsing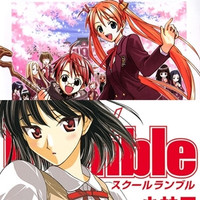 It was announced in this year's 14th issue of Kodansha's Weekly Shonen Magazine, officially released in Japan today on March 8, that special one-shot short stories for Ken Akamatsu's Mahou Sensei Negima!/Negima! Magister Negi Magi and Jin Kobayashi's School Rumble will be published in the magazine's next 15th issue to be released on March 15. In order to prevent browsing at stores, the long side or all three sides of the pages of the two stories will be sealed.
Negima! was serialized for 355 chapters in the magazine from February 2003 to March 2012, then compiled in 38 tankobon volumes. Its sequel series UQ HOLDER! was running in the magazine from August 2013 to June 2016, then has moved to the publisher's Monthly Bessatsu Shonen Magazine since October 2016. Now 12 tankobon volumes of UQ HOLDER! are available in Japan. School Rumble ran in Weekly Shonen Magazine from October 2002 to May 2009, releasing 22 volumes in total. Its most recent one-shot was published in the magazine in November 2016.
"Mahou Sensei Negima!" 1st and 38th volume covers
"School Rumble" 1st and 22nd volume covers
via: Mantan Web