Masaaki Yuasa's new feature film will open in Japan on May 19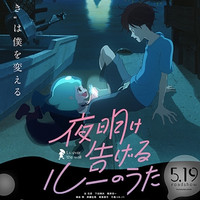 One day ahead of the clip's release at theaters across Japan tomorrow, the official website for acclaimed anime director Masaaki Yuasa's first original feature film Yoake Tsugeru Lu no Uta (Lu's Song that Announces The Break of Dawn)/Lu Over The Wall, today posted a 30-second new teaser featuring its theme song "Utautai no Ballad" provided by singer-songwriter Kazuyoshi Saito. The song was originally released as his 15th single in November 1997.
Teaser
The 107-minute film follows the encounter and relationship between a junior high school boy named Kai
(CV: Shouta Shimoda) who lives in a fishing port town and Lu (Kanon Tani), a mermaid girl comes from
the sea. It will be distributed by Toho Visual Entertainment from May 19.
The director is best known for his TV anime adaptation of Tomihiko Morimi's The Tatami Galaxy comedy
novel in 2010, and is also currently working on the anime feature film adaptation of Morimi's award-winning
love story novel Yoru wa Mijikashi Arukeyo Otome (Night is short, Walk, Girl) that will open in Japan on
April 7, 2017.
Poster visual with a tagline "Your 'Like' Changes Me."
Poster visual making video
Source: "Yoake Tsugeru Lu no Uta" official website
©2017 Lu Production Committee