Osamu Akimoto (Kochikame manga) is also one of the 18 recipients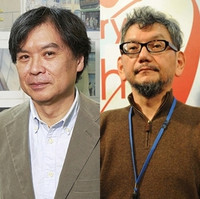 On March 8, Japanese Government Agency for Cultural Affairs announced 18 recipients of the Minister of Education Award for Fine Arts for the year 2016. It honors people who left excellent achievements in 11 categories of art every year. As previously reported, popular anime voice actress Nana Mizuki received its New Face award for the year 2013, then the Naruto manga author Masashi Kishimoto received the same award in the following year.
Last year's two recipients in the film category are Sunao Katabuchi and Hideaki Anno, both are 56-year-old. Katabuchi directed the critically acclaimed anime film adaptation of Fumiyo Kouno's Kono Sekai no Katasumi ni/In This Corner of the World manga, which also won the Animation of The Year award at the 40th Japan Academy Prize Awards. Famed animator Anno now runs his own anime production company Studio Khara and served as the general director for Shin Godzilla last year. Toho's 29th Godzilla film became the top-grossing live-action film of the year with a massive 8.25 billion yen.
In addition, 64-year-old Osamu Akimoto, who ended the weekly serialization of his long-running manga
series Kochira Katsushika-ku Kameari Kouen Mae Hashutsujo, KochiKame for short, for 40 years last
September, is also chosen for the media art category.
The recipients of the Minister of Education Award will be awarded a prize money of 300,000 yen (about
2,620 US dollars). The presentation ceremony will be held at Toshi Center Hotel in Tokyo at 16:00 on
March 15.
Sunao Katabuchi
Hideaki Anno
"Kochira Katsushika-ku Kameari Kouen Mae Hashutsujo" tankobon 1st and the final 200th volume covers
Source: Japanese Agency for Cultural Affairs