Second compilation film "The Dark Hero" open today in Japan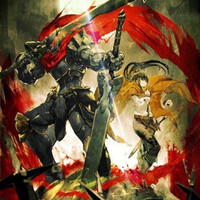 The official Twitter for the anime adaptation project of Kugane Maruyama's action fantasy light novel series Overlord today confirmed that production of its second TV anime series is now underway. Details will be announced later.
【特報】
本日より公開の「劇場版総集編 オーバーロード 漆黒の英雄」上映後の告知にて、TVアニメ 第2期の製作が発表となりました!
続報は追ってお知らせ致します。#overlord_anime

— オーバーロード/TVアニメ公式 (@over_lord_anime) March 11, 2017
The news was attached to the end of "Shikkoku no Eiyu/The Dark Hero," the second compilation film of
the first TV series aired for for 13 episodes from July to September 2015. The first compilation film
"Fushihsa no Ou/The Undead King" was released in Japan on February 25.
The first compilation film trailer
Poster visual
The second compilation poster visual
Source: "Overlord" anime project official Twitter
© Kugane Maruyama, KADOKAWA/Overlord Production Committee