If you're an "Odin Sphere" fan you'll want this figure for your collection.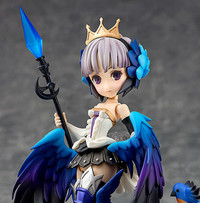 Phat! Company and RyunRyunTei have teamed up to create a new figure series known as Parfom, and one of the first figures to be a part of the series is Gwendolyn from Odin Sphere Leifthrasir.
Beautifully colored and detailed, the figure comes with her Psypher shield, wings, and other accessories. It's releasing in September of this year for about 6,500 yen and you can preorder at the GoodSmile Online Shop right now through March 16. Better get in on it if you're interested!
[via GoodSmile Company]
-------
Fueled by horror, rainbow-sugar-pixel-rushes, and video games, Brittany is a freelancer who thrives on surrealism and ultraviolence. Follow her on Twitter @MolotovCupcake and check out her portfolio for more.