It's probably still delicious, but that name's a little off-putting.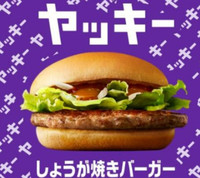 Would you eat a burger from McDonald's Japan if it had a "yucky" nickname? Check out McDonald's Japan's new burger, the "Yakkii" burger.
It's short for "shogayaki," which is essentially pork fried with ginger. It's just the name that sounds weird. When people say the name out loud, it sounds just like the word "yucky." Japanese consumers are pointing to the word "mazui" to refer to the burger, or just "very unappetizing." McDonald's Japan is using katakana for the name, which is typically used for foreign words.
It doesn't help that the burger doesn't look that good to start with. Would you eat it?
マクドの新作、しょうが焼きのヤッキー。やはりレタス多めのマックポークで、ソースは生姜風味のバーベキューでまずい。マックポークは塩辛かったし、もっとまともなソース作れんのか。 pic.twitter.com/wWsXXwtKvv

— あきら (@SudaAkira) February 25, 2017
[via Kotaku]
-------
Fueled by horror, rainbow-sugar-pixel-rushes, and video games, Brittany is a freelancer who thrives on surrealism and ultraviolence. Follow her on Twitter @MolotovCupcake and check out her portfolio for more.