Her new one-shot story will be published in the next two issues of Shonen Sunday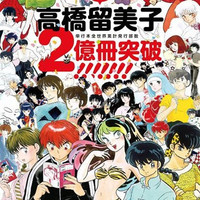 Shogakukan confirmed today that, as of the release of the latest 35th tankobon volume of her current serialization series Kyokai no Rinne/RINNE to be available on March 17, a total print run of 59-year-old manga artist Rumiko Takahashi's manga works will surpass 200 million copies worldwide. She has several international bestselling manga series, such as Urusei Yatsura (1978-1987), Maison Ikkoku (1980-1987), Ranma 1/2 (1987-1996), Inuyasha (1996-2008), and reached the 100 million mark back in August 1995.
To commemorate the historic record, she will provide her new one-shot story titled "Sennen no Mushin (Mindlessness for A Thousand Years)" in the upcoming 17th and 18th issues of Weekly Shonen Sunday to be released on March 22 and 29, respectively. And 29 manga artist draw illustrations inspired by her works and characters. In addition, her debut work Kattena Yatsura, originally published in 1978, will be re-published in the next May 2017 issue of Weekly Shonen Sunday S to be available
on March 25.
Commemoration art
"Sennen no Mushin" visual
高橋留美子、全世界で単行本2億冊突破!次号サンデーに読み切りやトランプ全サ https://t.co/hm4csBjPyY pic.twitter.com/IfFGlB3bDp

— コミックナタリー (@comic_natalie) March 14, 2017
Source: Web Sunday, Comic Natalie