Rupert Sanders (Snow White and the Huntsman)-directed film hits Japanese theaters April 7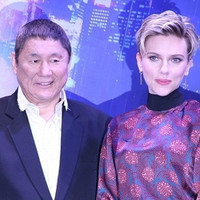 The world premiere screening event of the upcoming live-action film Ghost in The Shell was held at Kabuki-cho Cinema City in Tokyo yesterday, March 16. Director Rupert Sanders (Snow White and the Huntsman), Scarlett Johansson (the Major), Pilou Asbæk (Batou), Juliette Binoche (Dr. Ouelet), and Beat Takeshi (Daisuke Aramaki) joined the "Red Carpet" event and were welcomed by the fans.
70-year-old Beat Takeshi has also been known as internationally acclaimed director Takeshi Kitano who has directed 17 films, including Hana-bi that won the Golden Lion award at the 54th Venice International Film Festival in 1997. He has high opinion of the first anime film directed by Mamoru Oshii in 1995. He even gave the Best Film Award to the film and the Best Lead Actress Award to Motoko Kusanagi in the 5th Tokyo Sports Film Award in the following year. He has served as the chairperson for the film award since 1992.
He commented on the film saying, "We have seen that most of live-action film adaptations failed to reach
the quality of their sources and were criticized heavily. But this time, the fans who have grown up with the
original manga and anime series say this film is great. Faithful and new, I think this may be the first successful
live-action film adaptation of a Japanese manga. But people also say that only flaw in the film is Aramaki
(played by Takeshi)."
[映画ニュース] ビートたけし「ゴースト・イン・ザ・シェル」は「コミックの実写版で初めて成功したかも」 https://t.co/uyvZ9GcMMk pic.twitter.com/awMNKOaZKN

— 映画.com (@eigacom) March 16, 2017
MaiDiGi TV video report
And even in the original English version, he speaks his lines in Japanese. He explained the reason to Cinema
Today as below.
"I demanded (to the director) that Aramaki needed to speak in Japanese and I carried it through. Because the
based film is a Japanese anime. I was happy to join a film based on a Japaese-born work. But on the technology
side, I was amazed by Hollywood.
『ゴースト・イン・ザ・シェル』ビートたけしさんのインタビューです

劇中は全編日本語で通したという たけしさん
「日本のアニメだから」と理由を語ってくれました#スカヨハ攻殻 pic.twitter.com/yN2MsoSN7W

— シネマトゥデイ スタッフ (@cinematoday_stf) March 16, 2017
---
The Rupert Sanders (Snow White and the Huntsman)-directed film is set to be released in the US on
March 31, 2017, then will be released in Japan one week later.
"Ghost in The Shell" Japan-exclusive trailer narrated by Koichi Yamadera
Japan-exclusive poster
Source: Eiga.com, Cinema Today, Mantan Web
© MMXVI Paramount Pictures and Storyteller Distribution Co.All rights Reserved.