Available tonight starting at 10pm PST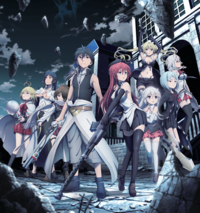 It only just debuted last month in Japan, and now Crunchyroll is bringing you the new Trinity Seven: Eternity Library & Alchemic Girl movie, a follow up to the anime series based on the manga by Kenji Saito and Akinari Nao.
Streaming begins tonight, 3/16, at 10pm PST for the following regions: USA, Canada, UK, Ireland, Australia, New Zealand, South Africa, Denmark, Finland, Iceland, the Netherlands, Norway, and Sweden.
About TRINITY SEVEN ETERNITY LIBRARY & ALCHEMIC GIRL
"Daddy-sama! Mommy-sama!"
One day Arata Kasuga, the demon lord candidate who possesses the "demon lord element," casually touches Lilith Asami's grimoire, the Hermes Apocrypha. At that moment, he's suddenly surrounded by by light, and a mysterious young girl shows up in front of him. He gives her the name Lilim, and she becomes attached to Arata and Lilith as her mother and father. But in the same moment she appeared, something in their world changed... The forbidden "Eternal Library" has awakened. Sealed within it is the ultimate product of alchemy, a human creation called the "White Demon Lord." The White Demon Lord plans to take out Arata and the Trinity Seven so that he can become the true demon lord. Arata and his companions must face a power greater than any they've ever seen, one that threatens to destroy the world. Can Arata and the Trinity Seven protect the world? Their final battle now begins!
---
Patrick Macias is editor in chief of Crunchyroll News & Otaku USA magazine.
He is currently serializing his latest writing project, MONDO TOKYO, on Wattpad.