"Sword Oratoria" TV anime will premiere in Japan on April 14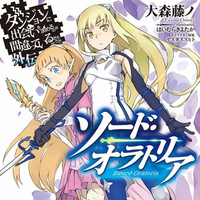 GA Bunko's official Twitter for Sword Oratoria, a spin-off of Fujino Omori's Is It Wrong to Try to Pick Up Girls in a Dungeon? fantasy light novel series, reported today that the imprint's editorial department has received the additional copies of the Sword Oratoria volumes that are newly printed in preparation for the upcoming TV anime to premiere on April 14, and that the whole DanMachi novel series has an astonishing 7 million copies in print in Japan now.
The first volume of the main story, Is It Wrong to Try to Pick Up Girls in a Dungeon?, was released in Japan in January 2013. Just before the on-air of its TV anime adaptation produced by J.C.STAFF in April 2015, the series reached the 2 million mark, then crossed a milestone of 4 million copies in January 2016. It means that the series spent 28 months to get the first 2 million copies printed, 9 months for the second 2 million, and 15 months for the recent 3 million. Now the main story has 11 volumes and Sword Oratoria has 7 volumes. In addition, the first volume of another spin-off series
Familia Chronicle Episode Ryu has just released two days ago, March 14.
【シリーズ累計700万部突破!】
4月より放送のTVアニメ「ソード・オラトリア」に先駆け、重版分が編集部に届きました! そして遂にシリーズ累計700万部突破! 皆様、本当にありがとうございます。これからも更に高みを目指して頑張りますのでよろしくお願いいたします!#danmachi pic.twitter.com/IrnvGwu1mu

— GA文庫『ソード・オラトリア』公式 (@to_a_dungeon) March 16, 2017
"Is It Wrong to Try to Pick Up Girls in a Dungeon?" novel 1st and 11th volume covers
"Sword Oratoria" novel 1st and 7th volume covers
"Is It Wrong to Try to Pick Up Girls in a Dungeon?" manga 1st volume illustrated by Kunieda
& "Sword Oratoria" manga 1st volume illustrated by Takashi Yagi
"Familia Chronicle Episode Ryu" novel and manga 1st volume covers
Source: GA Bunko "Sword Oratoria" official Twitter