But would anyone actually want to eat one of these things?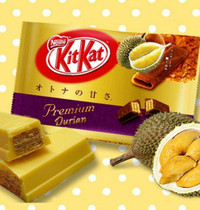 Have you ever been around, smelled, or even worse, eaten a durian fruit? They smell a lot like sweaty feet, but for some reason Thailand has suggested to Kit Kat that perhaps durian Kit Kat flavors might be something audiences want to try.
It doesn't sound appetizing in the least, and it doesn't seem like it would work well, and the mockup looks absolutely revolting. But if Thailand has its way, this could be a very real thing in the future!
[via RocketNews 24]
-------
Fueled by horror, rainbow-sugar-pixel-rushes, and video games, Brittany is a freelancer who thrives on surrealism and ultraviolence. Follow her on Twitter @MolotovCupcake and check out her portfolio for more.