Available for viewing now!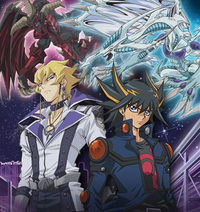 It's time to duel--As more Yu-Gi-Oh! English dubs make their way to the US and territories! Now viewers can catch Yu-Gi-Oh! 5D's and Yu-Gi-Oh! GX in the US as well, in addition to previous territories!



Welcome to New Domino City! Once the playground to legendary duelist Yugi Muto, this sprawling metropolis has since been transformed into a futuristic society where dueling has kicked into overdrive. With recent technological advancements made by KaibaCorp, dueling has undergone a metamorphosis that has revolutionized the makeup and pace of the game! It's now a heart-pounding, adrenaline-filled and fuel injected competition where duelists ride supercharged hyper cycles called Duel Runners and battle it out in hi-octane contests called "Turbo Duels."

To top it all off, we've also added the third season of Yu-Gi-Oh! ZEXAL dub to the Crunchyroll library as well, so it's time to feel the flow and get dueling!



When aspiring duelist Yuma meets Astral, a mysterious visitor from another universe, it seems like destiny. Yuma needs Astral to teach him how to duel, and Astral needs Yuma to help him regain his memories! They would be dueling's greatest tag team…. except they don't get along! This dueling duo better get their act together quickly because ZEXAL is a whole new duel with greater challenges than ever before! Fantastic new monsters! Powerful new cards! Augmented reality-powered duel technology! Together, it takes dueling to the next level!