Production Reed works on anime production with Yuji Yanase (Himegoto) directing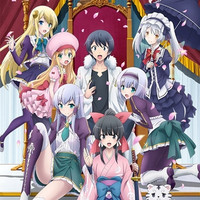 It is officially confirmed today that a TV anime adaptation of Patora Fuyuhara's fantasy light novel series Isekai wa Smartphone to Tomoni. (In a Different World with a Smartphone.) is set to premiere in Japan this summer. The anime's official website and Twitter are also launched with a first key visual featuring the anime version characters.
オンライン小説サイト『小説家になろう』にて累計1億PV超の大人気作品「異世界はスマートフォンとともに。」がついにアニメ化決定!2017年夏より放送開始!これから公式HP&公式Twitterにて随時情報をお届けします! #イセスマ https://t.co/JAdnGyWnY0 pic.twitter.com/EBqRIkyDMG

— アニメ 異世界はスマートフォンとともに。 (@isesumaofficial) March 21, 2017
The novel series has been published on the Shosetsuka ni Narou (Let's Become a Novelist) site since
April 2013, and has been viewed over 100 million times in total. Its print editions have been published
from Hobby Japan's HJ Novels imprint with illustrations by Eiji Usatsuka (The Familiar of Zero), and
the latest 8th volume is scheduled to be released on March 23.
The story follows the 15-year-old protagonist Touya Mochizuki, who was killed by God's mistake. God
agrees to reincarnate him into a fantasy world. In addition, he can bring his smartphone that connects
to the real world's data bank. In his second life in the fantasy world, Touya meets his precious friends
and gradually gets to find out the secret of the world.
---
TV Anime Main Staff
Director: Yuji Yanase (Himegoto, Onsen Yosei Hakone-chan)
Series Composition/Scenarios: Natsuko Takahashi (Poco's Udon World, Long Riders!)
Character Designer/Chief Animation Director: Toshihide Masutate, Masahiro Sekuguchi, Miyako Nishida
Art Director: Satoru Shibata
Color Coordinator: Aki Watanabe
Sound Director: Takumi Ito
Music/Music Production: EXIT TUNES
Anime Production: Production Reed (Onsen Yosei Hakone-chan, Nijiiro Days)
---
Novel 1st and 8th volume covers
The novel illustrator Eiji Usatsuka posts a celebration illustration of one of the heroines, Yumina.
簡単ですが登場キャラのユミナがアニメ化お祝いです。どんな感じになるか今から楽しみです^^ pic.twitter.com/ipeHLJiAPh

— エイジ (@usatsukaeiji) 2017年3月21日
Source: "Isekai wa Smartphone to Tomoni." TV anime official website, Twitter
© Patora Fuyuhara, Hobby Japan/The Principality of Brunhild