Rough drafts of "Inuyasha" last chapter and "RINNE" first chapter are now available on the web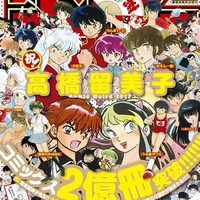 Shogakukan today started offering digital editions of Inuyasha (56 volumes), One-Pound Gospel (4 volumes), Mermaid Saga (3 volumes), 1orW (1 volume), and Rumiko Takahashi Short Story Anthology (2 volumes). Now all of Rumiko Takahashi's manga works are available in digital form.
As reported, as of the release of the latest 35th tankobon volume of Kyokai no Rinne/RINNE last Friday, a total print run of the 59-year-old manga artist's manga works surpassed 200 million copies worldwide, and these new digital releases of her old works are part of the celebration for the historic record. Currently, the first volumes of her five representative series, Urusei Yatsura, Maison Ikkoku, Ranma 1/2, Inuyasha, and Kyokai no Rinne, are available for free at selected digital stores, including Shogakukan eComic Store till April 5.
And now you can check Takahashi's original "name" (rough draft) of the last chapter of Inuyasha and
the first chapter of Kyokai no Rinne on the Web Sunday site.
The first part of her new one-shot story titled "Sennen no Mushin (Mindlessness for A Thousand Years),"
is published on the latest 17th issue of Weekly Shonen Sunday released today in Japan, and the cover
of the issue features Takahashi's famous characters.
Weekly Shonen Sunday 17th issue cover
Commemoration art
Source: Web Sunday, Comic Natalie