"Your Name." finally dropped below the top 10 in its 30th weekend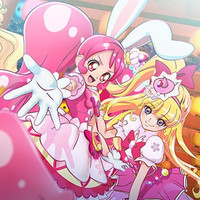 According to the latest box office report, the highly anticipated 22nd PreCure feature film PreCure Dream Stars! earned 158 million yen on the 135,000 admissions in its opening weekend, ranking 5th in the ranking for March 18-19. Seven titles in this weekend's top 10 were anime/animation films.
The first weekend gross of PreCure Dream Stars! was 18.3% up from that of PreCure All Stars: Singing with Everyone♪ Miraculous Magic!, the 8th crossover film that ended its domestic run with 640 million yen last spring. The 9th crossover film featuring the girls from the recent three TV series, Go! Princess PreCure, Maho Girls PreCure!, and the ongoing Kirakira PreCure a la Mode, is expected to earn around 700 million yen in Japan.
Coming in the 6th is Kuroko's Basketball: Last Game that sold 124,000 tickets. The all-new film based on the manga's eight-episode sequel series Kuroko's Basketball Extra Game, attracted 174,627 moviegoers
and made 251,258,60 yen from its first three days. Kenji Kamiyama (Ghost in the Shell: Stand Alone
Complex)'s original anime film Hirunehime -Shiranai Watashi no Monogatari- (English title: Ancien and
the Magic Tablet) ranked a bit disappointing 9th.
And finally, Makoto Shinkai's Kimi no Na wa./Your Name. dropped below the top 10 in its 30th weekend. 
By last weekend, the youth sci-fi film earned a gigantic 24.65 billion yen.
---
Weekend box office in Japan (March 18-19, 2017)
1 (new). "Sing"
2 (1). "Moana"
3 (2). "Doraemon the Movie 2017: Great Adventure in the Antarctic Kachi Kochi"
4 (3). "La La Land"
5 (new). "PreCure Dream Stars!"
6 (new). "Kuroko's Basketball: Last Game"
7 (new). "March Comes like a Lion: 1st Part"
8 (4). "Chiadan: Joshi kousei ga chiadansu de zenbei seihashichatta honto no hanashi"
9 (new). "Hirunehime -Shiranai Watashi no Monogatari-"
10 (5). "Sword Art Online The Movie: Ordinal Scale"
"PreCure Dream Stars!" trailer
"Kuroko's Basketball: Last Game" trailer
"Hirunehime -Shiranai Watashi no Monogatari-" trailer
Source: Eiga.com, Movie Walker