Based on "PARK: Harajuku Crisis Team!"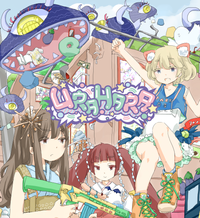 The word is just out of Anime Japan about a new series now in production called Urahara, based on the webcomic PARK: Harajuku Crisis Team! which first began right here on Crunchyroll.
PARK: Harajuku Crisis Team! started serialization on Crunchyroll Manga and Tumblr in 2015 as part of a collaboration between writer-editor Patrick Macias, artist Mugi Tanaka (aka Oplant), and the PARK store in Harajuku, Tokyo. The story concerns a trio of shop girls – Rito, Mari, and Kotoko – that band together to battle an alien menace intent on removing famous locations and landmarks from the Earth.
Details about Urahara's staff, cast, and release date were not revealed at Anime Japan, but here's the official description:
Crunchyroll's serialized story "PARK: HARAJUKU Crisis Team!" is now an anime! Top Japanese creators have partnered with the North American anime streaming site Crunchyroll to create URAHARA – a new series with a unique worldview and a striking visual style. A new era in Harajuku is dawning!
Based on "PARK:Harajuku Crisis Team!" by Patrick Macias (Crunchyroll)
Character Design: Mugi Tanaka / PARK
Urahara has also launched their official website and Twitter account. While there's yet to be any artwork from the anime itself to share, here's a gallery of images from the webcomic.