We think we loooooove this hat.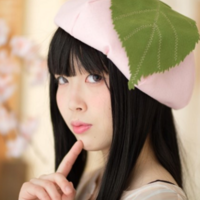 She wore a sakura mochi beret, the kind you find in a Tokyo store. This adorable cherry blossom-inspired hat from hatmaker Kabugaisha is in full bloom in the city now.
You can pick up the hat via online retailer Village Vanguard (as well as a ton of other cool stuff), but right now it's out of stock. You can opt for some shiitake mushroom, nasu, or apple hats instead, ranging from about $48 to $53. Check out the hate below!
[via RocketNews24]
-------
Fueled by horror, rainbow-sugar-pixel-rushes, and video games, Brittany is a freelancer who thrives on surrealism and ultraviolence. Follow her on Twitter @MolotovCupcake and check out her portfolio for more.