Starts today, 3/28, at 5pm PST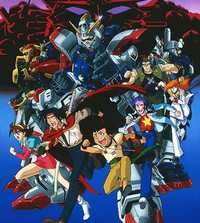 Let the tournament begin! Old-school blasts from the past don't get much bigger than Mobile Fighter G Gundam, and today, this 1994 series made famous by its early 2000s run on the Cartoon Network run joins the Crunchyroll catalog of anime.
This subtitled presentation of Mobile Fighter G Gundam begins streaming today, Tuesday, April 28, at 5pm PST and will be available to all members worldwide except Asia!
About Mobile Fighter G Gundam
It is time for the Gundam Fight tournament! Each country sends a Gundam to Earth for this prestigious tournament in the hopes of winning power and glory for their homeland! But this time, there's an unseen evil lurking behind the scene. Domon Kasshu, Neo Japan's reluctant Fighter, is determined to uncover this evil and clear his family name! The fight to the top begins now!
---
Patrick Macias is editor in chief of Crunchyroll News & Otaku USA magazine.
He is currently serializing his latest writing project, MONDO TOKYO, on Wattpad.