"PreCure Dream Stars!" ranks 10th, "Hirunehime" disapears in their 2nd weekend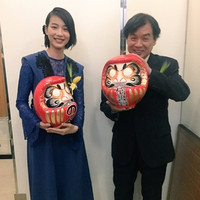 It was confirmed yesterday that the anime film adaptation of Fumiyo Kouno's award-winning manga Kono Sekai no Katasumi ni/In This Corner of the World, directed by Sunao Katabuchi (Black Lagoon, Mai Mai Miracle), had earned an impressive 2.5 billion yen from the 1.9 million ticket sales by March 25, in 19 weeks since its release on November 12, 2016. The film supported by crowdfunding efforts was released in only 63 theaters, but thanks to the high recognition among critics and fans, it was expanded to over 300 in total.
The film was chosen as the Animation of The Year at the 40th Japan Academy Prize Awards, and director Katabuchi received the Minister of Education Award for Fine Arts from Japanese Government Agency for Cultural Affairs. Most recently, the director and Non, the voice of the protagonist Suzu, received the Horizont Award at the 31st Takasaki Film Festival. The two attended the award ceremony held at Gunma Music Center on Sunday, March 26.
雨にもかかわらず会場にはたくさんのお客様で埋め尽くされてました!映画を愛する高崎映画祭ならではのあったかい雰囲気の中、授賞式が無事執り行われました。映画祭さんからいただいた、高崎名物のだるま。のんさんと片渕監督の名前入り!素敵です♪#この世界の片隅に pic.twitter.com/V1qKPxGN9e

— 『この世界の片隅に』全国拡大上映中! (@konosekai_movie) March 26, 2017
【スタッフより】本日は第31回高崎映画祭授賞式でした。のんは、『 #この世界の片隅に 』で片渕須直監督と共に「ホリゾント賞」をいただきました。過去が、「この世界の片隅に」で今になり、未来へ繋がる。そんな事を思わせてくれる素敵な賞です。お二人とも、おめでとうございます! pic.twitter.com/Kqq0fgVOP8

— のん STAFF (@non_staffnews) March 26, 2017
---
Weekend box office in Japan (March 25-26, 2017)
1 (1). "Sing"
2 (2). "Moana"
3 (3). "Doraemon the Movie 2017: Great Adventure in the Antarctic Kachi Kochi"
4 (new). "Kong: Skull Island"
5 (new). "Hirunaka no Ryusei"
6 (new). "Kamen Rider × Super Sentai: Ultra Super Hero Taisen"
7 (new). "P to JK"
8 (4). "La La Land"
9 (new). "Passengers"
10 (5). "PreCure Dream Stars!"
"In This Corner of The World" trailer
Source: Eiga.com, Mantan Web