BORUTO starts 4/5, Love Tyrant on 4/6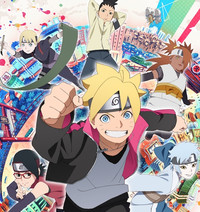 It's only been a few days since Crunchyroll announced it would be streaming, BORUTO - NARUTO NEXT GENERATIONS, the highly anticipated new follow-up to Masashi Kishimoto's smash hit NARUTO. And now, we've got dates and regions for you! PLUS, the facts are in about the upcoming simulcast for the Love Tyrant anime as well. Hit the jump for full info!
BORUTO - NARUTO NEXT GENERATIONS begins streaming Wednesday, April 5 at 2:25am PST and will be available to members worldwide except Japan, Premium-only in French-speaking territories (*note will not be available in French subtitles).
About BORUTO - NARUTO NEXT GENERATIONS
The Hidden Leaf Village has entered an era of peace and modernity. Tall buildings line the streets, giant screens flash with images, and the Thunder Rail runs through the village, connecting each district together. Though it's still a ninja village, the number of civilians has increased and the life of the shinobi is beginning to change.
Boruto Uzumaki, son of Seventh Hokage Naruto Uzumaki, has enrolled in the Ninja Academy to learn the ways of the ninja. The other students are ready to dismiss him as "just the son of the Hokage," but Boruto's heart and character blow all their assumptions away.
As a series of mysterious events begins to unfold, it's up to Boruto and his new friends to handle them. Like a gale-force wind, Boruto makes his own way into everyone's hearts; his story is about to begin!
-----
Love Tyrant begins streaming Thursday, April 6 at 12:05pm PST and will be available to members worldwide except Asia.
About Love Tyrant
A beautiful girl named Guri, who has a mysterious item that forces two random people to kiss and turns them into couples, appears in front high school student, Aino Seiji. Despite being dressed up as a shinigami, she's actually cupid. Suddenly, Guri tries to kiss Seiji, and then.
---
Patrick Macias is editor in chief of Crunchyroll News & Otaku USA magazine.
He is currently serializing his latest writing project, MONDO TOKYO, on Wattpad.