Starts Sat/1 at 7:30 am PST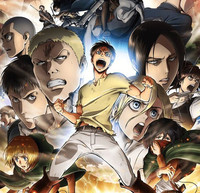 Giant-size announcement time! Season Two of the blockbuster anime juggernaut known as Attack on Titan, based on the best-selling manga by Hajime Isayama, is coming to Crunchyroll's spring 2017 season!
Attack on Titan Season Two Starts Saturday April 1 at 7:30am PST and will be available in the following territories: United States, Canada, United Kingdom, Ireland, Australia, New Zealand, Nordics, Netherlands,South Africa, Central and South America
About Season Two of Attack on Titan
Eren Jaeger swore to wipe out every last Titan, but in a battle for his life he wound up becoming the thing he hates most. With his new powers, he fights for humanity's freedom facing the monsters that threaten his home. After a bittersweet victory against the Female Titan, Eren finds no time to rest—a horde of Titans is approaching Wall Rose and the battle for humanity continues!
---
Patrick Macias is editor in chief of Crunchyroll News & Otaku USA magazine.
He is currently serializing his latest writing project, MONDO TOKYO, on Wattpad.