Mais anúncios para hoje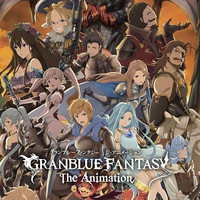 Agora são dois anúncios de uma vez. Primeiro, é a versão para TV em episódios de GRANBLUE FANTASY The Animation. Depois, trazemos a segunda temporada de Bono Bono.
GRANBLUE FANTASY The Animation terá início a partir do dia 1º de abril às 13h30 (BRT) exclusivamente para os membros premium do Brasil.
Sinopse:
Este é um mundo de céus, onde várias ilhas flutuam pelos ares. Um garoto chamado Gran e um lagarto alado falante chamado Vyrn moram em Zinkenstill, uma ilha cheia de mistérios. Certo dia, eles conhecem Lyria. A garota escapou do Império Erste, um governo militar que tenta dominar o mundo através do poderio bélico. Para escapar do Império, Gran e Lyria seguem para os céus abertos, carregando a carta que o pai de Gran lhe deixou, que dizia: "Estarei esperando em Estalucia, a Ilha das Estrelas."
---
Bono Bono S2 já está disponível desde hoje, dia 1º de abril, e será exibido todas as sextas-feiras, às 21h (BRT).
Sinopse:
BONO BONO é um yonkoma divertido com animais, criado por Mikio Igarashi. Bonobono, uma jovem lontra-do-mar, faz amizade com o Esquilo, o Gato Pescador e outras criaturas silvestres amigáveis. Entre uma piada e outra, esta série também enfrenta questões filosóficas como: "O que é a vida?"
Confira os títulos anunciados pela Crunchyroll.pt para a temporada de primavera 2017:
25/03 - Monster Strike
01/04 - Gin no Guardian
01/04 - Shingeki no Kyojin S2
05/04 - Boruto
06/04 - Renai Boukun
????? - Berserk S2