The station will push more on its anime contents this year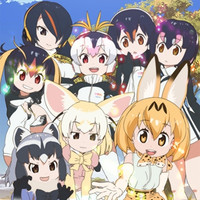 Yuichi Takahashi, President of TV Tokyo held his regular press conference at the station on March 30 and was asked about the recent huge success of the Kemono Friends TV anime whose final 12th episode was aired on Tuesday.
"I am very happy that it has generated much more sensation than we previously expected. As to the future, I have heard that a newly-produced clip is now in the works. We will inform you when it is officially set," he answered.
In the last interview in February, he said that he had not seen the series yet. "I have seen it. I thought its popularity was far beyond estimation and felt a strange 'deepness' in the story," he gave his opinion and also pointed out, "I have read some comments in the net. A great part of the modern anime is how it becomes topical and popular like that. I think it is a very interesting phenomenon, and I was surprised that
the fans even tried to interpret the concept of the world setting."
Then he added, "It was a very fascinating title in understanding the current anime culture."
---
The full 3DCG TV anime Kemono Friends is produced by YAOYOROZU and directed by Tatsuki (Tesagure!
Bukatsu-mono animation director), and has been available to Crunchyroll members worldwide except Asia.
1st PV
Main visual
(C) Kemono Friends Project A