The parade of April Fools' Day silliness continues with a mobile phone in the shape of Godzilla's 2nd form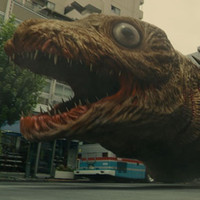 April Fools' Day strikes again with another gag product that I would actually buy if it existed, because Toho Studios is advertising a revolutionarily advanced smart phone shaped like Godzilla's 2nd form from the 2016 smash-hit giant monster movie, Shin Godzilla.
The non-existent smart phone boasts 55 core processing, a 550 mllion pixel camera, 555K video capture and projection, and access to a 55G network that is only available in the Haneda - Kamata area (which Godzilla flattened in the movie).
The phone also includes other nonsensical features such as being self-powering, being impact resistant (because it is constantly evolving), and being completely waterproof even in the deep sea. The "producers" note that the Godzilla No. 02 mobile phone has a tendency to overheat and leak radiation, so constant cooling is required.
April Fools' Day is a very silly day, indeed.
Shin Godzilla is directed by Hideaki Anno and Shinji Higuchi. The film is licensed for distribution in North America by Funimation, who describe the story as follows:
"It's a peaceful day in Japan when a strange fountain of water erupts in the bay, causing panic to spread among government officials. At first, they suspect only volcanic activity, but one young executive dares to wonder if it may be something different… something alive. His worst nightmare comes to life when a massive, gilled monster emerges from the deep and begins tearing through the city, leaving nothing but destruction in its wake. As the government scrambles to save the citizens, a rag-tag team of volunteers cuts through a web of red tape to uncover the monster's weakness and its mysterious ties to a foreign superpower. But time is not on their side—the greatest catastrophe to ever befall the world is about to evolve right before their very eyes."
Source: Anime! Anime!
Paul Chapman is the host of The Greatest Movie EVER! Podcast and GME! Anime Fun Time.