Next 5th volume will be available on April 28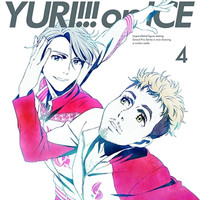 According to the latest Oricon sales report, the 7,560-yen (about 68 US dollars) fourth Blu-ray volume of the Yuri!!! On ICE TV anime, released on March 31, sold a very good 33,000 units in its first week, becoming the top-selling Blu-ray disc of the week in Japan. The sales number was the same as the previous third volume released on February 24, and the anime franchise's recent three Blu-ray volumes, second to fourth, all got the top place in the sales chart. The fourth volume's DVD also sold 13,000 units, ranking fourth in the overall ranking and first in the anime DVD ranking.
The fourth DVD and Blu-ray include the anime's seventh and eighth episodes. The first press limited edition set of both discs contain a special CD hosted by Junichi Suwabe (Victor Nikiforov) and Hiroki Yasumoto (Christophe Giacometti), a set of two masking tapes newly drawn by the original story creator/character designer Mitsuro Kubo, and a special booklet. The seventh episode in the disc also comes with an audio commentary by Kensho Ono (Phichit Chulanont), Yutaro Honjo (Guang-Hong Ji),
Shunichi Toki (Leo de la Iglesia), and Mitsuro Kubo.
Blu-ray fourth volume jacket illustration
Masking tapes
Blu-ray set
The fifth disc with the ninth and 10th episodes is set for a release on April 28.
「ユーリ!!! on ICE」Blu-ray&DVD第5巻ジャケット&特典情報を解禁しました!!!
5巻には勇利、ユリオ、JJが登場
商品詳細はこちら
https://t.co/CSja12a424#yurionice pic.twitter.com/oy53Zl4MuN

— TVアニメ「ユーリ!!! on ICE」 (@yurionice_PR) March 30, 2017
Source: Oricon News
© Hasetsu Town's people/Yuri!!! On ICE PROJECT