Starts 4/5 at 9:00am PST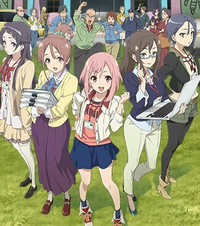 The new season announcements at Crunchyroll continue today with Sakura Quest, an original new series from P.A. Works of Angel Beats! and The Eccentric Family fame that begins streaming tomorrow.
Sakura Quest starts Wednesday 4/5 at 9:00am PST and will be available to members in the following territories: USA, Canada, United Kingdom, Ireland, Australia, New Zealand, South Africa, Iceland, Sweden, Norway, Denmark.
About Sakura Quest
Five young women have one thing in common—the careers they planned for themselves weren't working out. Job dissatisfaction, trying to make ends meet, and personal insecurities lead each of them to start working at a local tourism bureau where their lives become intertwined. As the girls experience their first year on the job, they learn a lot about their town, their industry, and themselves.
---
Patrick Macias is editor in chief of Crunchyroll News & Otaku USA magazine.
He is currently serializing his latest writing project, MONDO TOKYO, on Wattpad.