Una academia de magia de élite y un peculiar profesor para el 4 de abril.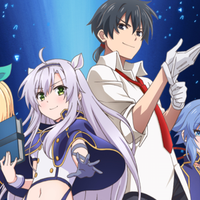 ¡Anuncios y anuncios! La temporada de primavera es de las que arrancan tarde, pero que nadie se preocupe, que los anuncios sigue llegando, y esta vez ampliamos el listado de series con Akashic Records of Bastard Magical Instructor.
Akashic Records of Bastard Magical Instructor se estrenará el martes 4 de abriil a las 6:30 am, hora del Pacífico, para todos nuestros usuarios Premium.
¡Una historia de fantasía heroica protagonizada por un profesor de magia que odia la magia! En un mundo en el que magia y ciencia han evolucionado de forma paralela nos encontramos con el Imperio de Alzano, una de las mayores potencias mágicas del mundo. Entre sus fronteras se encuentra la Academia Imperial de Magia de Alzano, una de las más prominentes escuelas de magia del mundo y en la que se puede estudiar magia de altísimo nivel. Todos los que aspiran a ser grandes magos sueñan con estudiar en esta academia, y tanto alumnos como profesores se enorgullecen de los más de 400 años de historia de la institución.
En esta academia comienza a trabajar Glenn Radars, a quien contratan a tiempo parcial. Lo primero que dice a sus nuevos estudiantes es muy sencillo: "Os enseñaré qué es la magia de verdad". Así dan comienzo las lecciones de este hombre al que todos consideran un inútil.
Akashic Records of Bastard Magical Instructor estará disponible para usuarios de Crunchyroll en TODO EL MUNDO a excepción de Asia.