118mm x 85mm item will be shipped in October 2017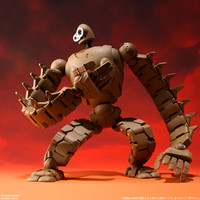 Following the original edition released in October 2013 and the second with two blue LED parts in November 2015, Bandai will release the third edition of its Robot Soldier action figure from its "Souzou Galleria" line that is specialized in modeling famous characters from the Studio Ghibli films in October 2017. The character appeared in Hayao Miyazaki's 1986 classic anime film Laputa: Castle in the Sky, and has been also famous for its 1/1 size statue at Ghibli Museum in Mitaka, Tokyo.
With over 57 joints in its body, the latest edition is now able to make the robot's characteristic poses shown in the film. The price for the 118mm × 85mm item is 7,560 yen (about 69 US dollars) and pre-orders are now accepted on Bandai's official online store Premium Bandai and at some of Donguri Kyowakoku stores in Japan, and it will end when quantities have been reached.
"Robot Soldier Full Action Ver."
1st edition released in October 2013
2nd edition with two blue LED parts released in November 2015
Source: Bandai Net Startegy Section press release
© NIBARIKI Bandai 2015