Questa settimana a un orario speciale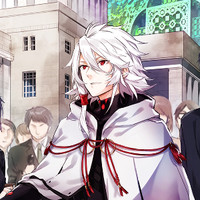 Crunchyroll è lieto di annunciare che alla proposta primaverile in simulcast va ad aggiungersi anche KADO: The Right Answer.
Gli episodi 0 e 1 saranno disponibili giovedì 6 aprile alle 16:00 (orario italiano), mentre gli episodi successivi saranno disponibili ogni venerdì alle 16:00 a partire dal 14 aprile.
A proposito di KADO: The Right Answer
Koujiro Shindo è un negoziatore molto abile che lavora per il Ministero degli Affari Esteri. Quando il suo aereo decolla dall'aeroporto di Haneda, un misterioso e gigantesco cubo appare all'improvviso nel cielo. Ingranditosi rapidamente, ingoia l'aereo con tutti i 252 passeggeri.
Il nome del cubo è "Kado."
Uno strano essere, Yaha-kui zaShunina, esce da Kado e cerca di contattare l'umanità. Shindo, all'interno del cubo, assume il ruolo di mediatore tra Yaha-Kui Zashunina e gli esseri umani.
Nel frattempo, il Governo giapponese invia anche un proprio negoziatore: Saraka Tsukai.
Chi è Yaha-Kui Zashunina e qual è il suo vero scopo?