Episodes for both titles available today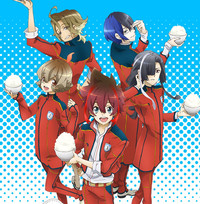 New anime is in the air for spring again today as Season Two of Ninja Girl & Samurai Master and Love Rice begin their streaming runs today!
Love Rice, which has a heck of a premise (cute school guys as anthropomorphized rice…) begins streaming TODAY, 4/7, with Episode 1 at 2:00pm PT. Future episodes will go live Wednesdays at 8:00am. Territories are worldwide except Asia.
About Love Rice
"The Harvest Show" is a concert where all of the different grains show off their beauty to everyone watching, and "HarveStars" is the name given to the grains who put on the best performances. In this modern age of rice acreage reduction policies and Westernization of eating habits, bread has become the most popular grain in Japan, and dinner tables are dominated by "Yeast King," the bread HarveStars. But five new rice students have enrolled at Kokuritsu Inaho Academy, a school on the verge of shutting down, and they form a new group called "Love Rice" that's practicing to beat Yeast King at the Harvest Show and win back the popularity rice once had... This heartfelt "kome"-dy featuring anthropomorphized grains is full of laughter and passion! Two grains aren't needed at the dinner table... so which will become the true HarveStar?
Meanwhile, Season Two of Ninja Girl & Samurai Master also kicks off today, with new episode 27 going live later today, with future episodes available Fridays at 11:05am PT. Territories are worldwide except Asia.
About Ninja Girl & Samurai Master
The year is 1555, the middle of the Warring States period, and one young man holds on to a very big dream. That young man, known as an empty-headed fool, is none other than Oda Nobunaga. Enchanted by his dream, a certain young girl who admires Nobunaga swears that she will become his ninja one day. Nobunaga has one goal: to unify Japan by military might! Decorated by a colorful cast of characters, including the airheaded Kichou, the errand boy Hideyoshi, the tsundere Nene, the straight man Mitsuhide, and the half-dead Hanbei, this heavy-hitting wartime gag anime is about to begin!!
---
Patrick Macias is editor in chief of Crunchyroll News & Otaku USA magazine.
He is currently serializing his latest writing project, MONDO TOKYO, on Wattpad.