CD single still ranks No.1 in Amazon Japan's soundtrack ranking, beating "La La Land"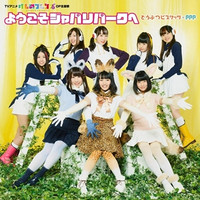 The official website for the Kemono Friends anime franchise has announced the three members of Doubutsu Biscuits and the five of PPP (PePaPu) will perform the TV anime's OP theme song "Yokoso Japari Park he" (Welcome to The Japari Park) in TV Asahi's prestigious music program Music Station next Friday, April 14, starting at 20:00 (JST).
The one-hour program has been aired on the one of the flagship TV stations since 1986, and performing in it is considered as a proof that the artists have gained a broad public recognition in Japan. Only a few anime voice actress artists have performed in the program so far, such as Nana Mizuki and μ's (Love Live!).
23-year-old voice actress Yuka Ozaki, the voice of Serval and a member of Doubutsu Biscuit, has reported her upcoming appearance in the nationally popular program on her official Twitter.
"It is officially announced that Doubutsu Biscuit and PPP will appear in the next week's 'Music Station.'
It has been like a dream to me since I heard the news, I still can't believe it is real. We will do our very
best, so I would be very happy if you can support us by saying 'Woo Gao!' together when you watch the
program at 20:00 on April 14."
来週の''ミュージックステーション''に、
どうぶつビスケッツ×PPPが出演決定しました
お話しを聞いた時からまだ夢のようでまだ実感がわきません
精一杯皆んなで頑張るので、''4月14日''20時〜OA観て『うーがおー』応援して頂けたら嬉しいです #けものフレンズ pic.twitter.com/nEIdRRDHtJ

— 尾崎由香 (@yuka_bushi) April 7, 2017
---
OP song regular edition CD jacket
Doubutsu Biscuits members:
Serval: Yuka Ozaki (Ado Sukinanoka in We Are the Luck and Logic Club!)
Fennec: Kana Motomiya
Araiguma (Common Racoon): Saki Ono (Hakone-chan in Onsen Yosei Hakone-chan)
PPP members:
Royal Penguin: Mikoi Sasaki (Hercule Barton in Milky Holmes)
Koutei (Emperor) Penguin: Ruka Nemoto (Yu Kashima in VENUS PROJECT -CLIMAX-)
Gentoo Penguin: Kyouka Tamura
Iwatobi (Rockhopper) Penguin: Aina Aiba
Humboldt Penguin: Ikuko Chikuta
First press limited edition
Special OP song movie
Source: "Kemono Friends" TV anime offical website, Yuka Ozaki Twitter
(C) Kemono Friends Project A