Starts tomorrow, Sun/9, at 8:30am PST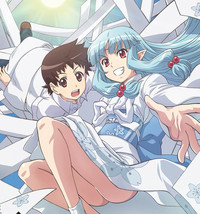 Saturday night is alight for… another new anime announcement at Crunchyroll! Tsugumomo, based on the supernatural romantic comedy manga series by Yoshikazu Hamada, is set to begin streaming tomorrow!
Episodes 1 and 2 of Tsugumomo begin streaming tomorrow, Sunday April 9, at 8:30am PST with future episodes going live every Sunday at 8:30am PST. Tsugumomo will be available to viewers in the following territories: North America, Latin America, Australia, New Zealand. South Africa, Europe, the Middle East and North Africa.
About Tsugumomo
One day Kagami Kazuya, a completely ordinary boy, suddenly encounters Kiriha, a beautiful girl in a kimono. Even though Kazuya has no recollection of meeting her before, Kiriha calls out "Long time no see" to him. It turns out Kiriha is actually a tsukumogami whose true identity is the precious obi Kazuya carries around that used to belong to his late mother. All kinds of bizarre phenomena unfold around the sadistic beauty Kiriha in this supernatural action comedy!
Sunao Sumeragi: Voiced by Yo Taichi (Pepperoni, Girls Und Panzer)
Kasumi Kagami: Voiced by Ayana Taketatsu (Azusa Nakano, K-ON!)
Shirou Shiramine: Voiced by Sachi Kokuryu (Chibita, Osomatsu-san)
Osamu Osanai: Voiced by Shiho Sasaki (Wakaba Himeji, Pupipo!)
---
Patrick Macias is editor in chief of Crunchyroll News & Otaku USA magazine.
He is currently serializing his latest writing project, MONDO TOKYO, on Wattpad.